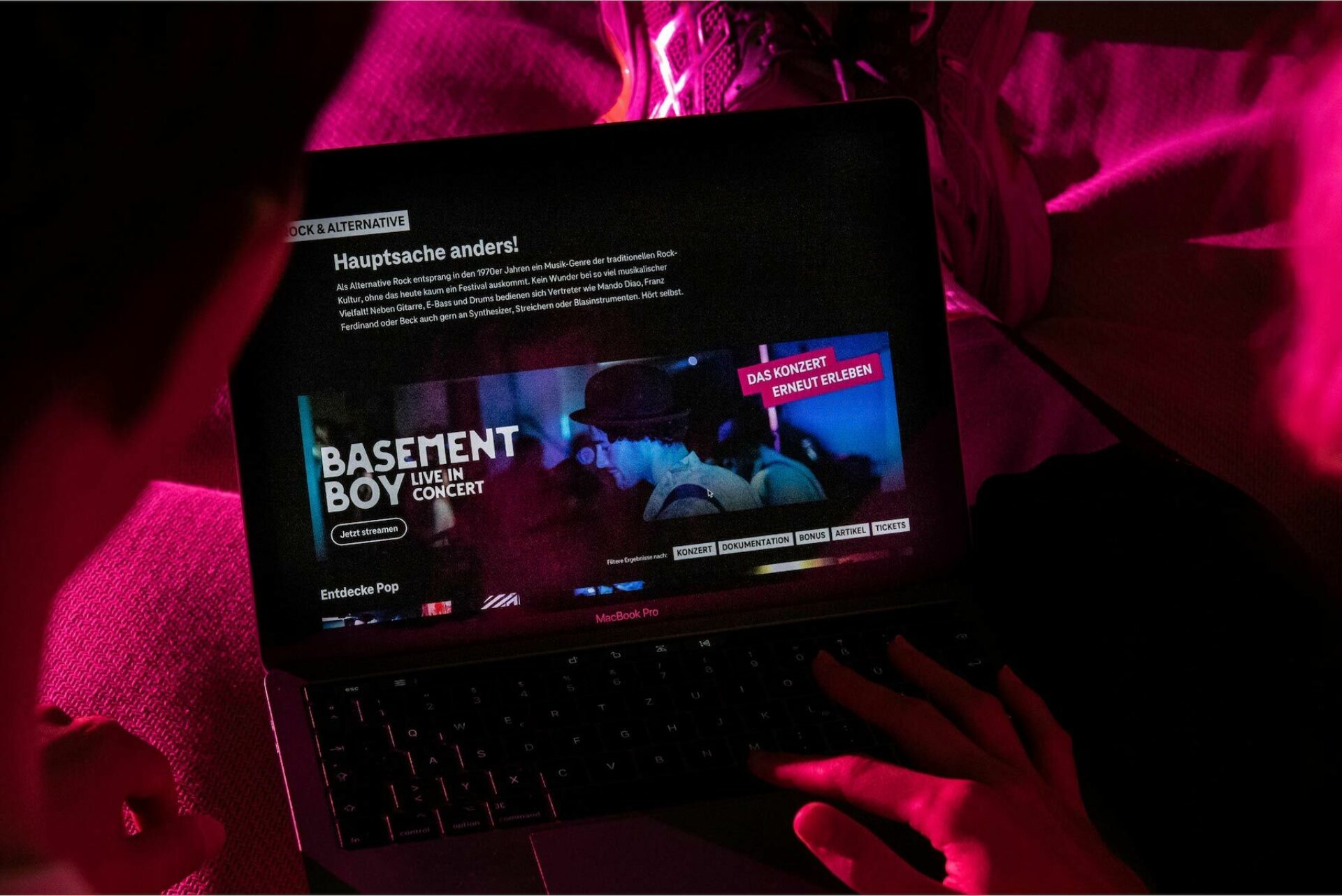 Telekom Magenta Musik
Magenta

Musik
The digital music experience
Web platform, customer experience, branding, curation & content - we create a digital ecosystem for the music offering of Telekom.
Front-of-stage at Muse, in the moshpit at W:O:A or close to the orchestra – Telekom offers its customers a very special brand experience through MagentaMusik . As a central hub for Street Gigs, festivals & more, magentamusik.de is all about music: live streams, concerts and documentaries on demand, priority tickets and reams of background information. MagentaMusik brings musical highlights to life on a website, offers musicians a major digital stage and provides music fans with real live performances, even during the coronavirus pandemic. This allows the Telekom brand to convey an individual brand identity via the digital product and thereby build unique customer relationships. At Fork, we make sure that the digital brand experience scoops up users at all touchpoints, establishes emotional connections and places music fans at the centre of the action every time.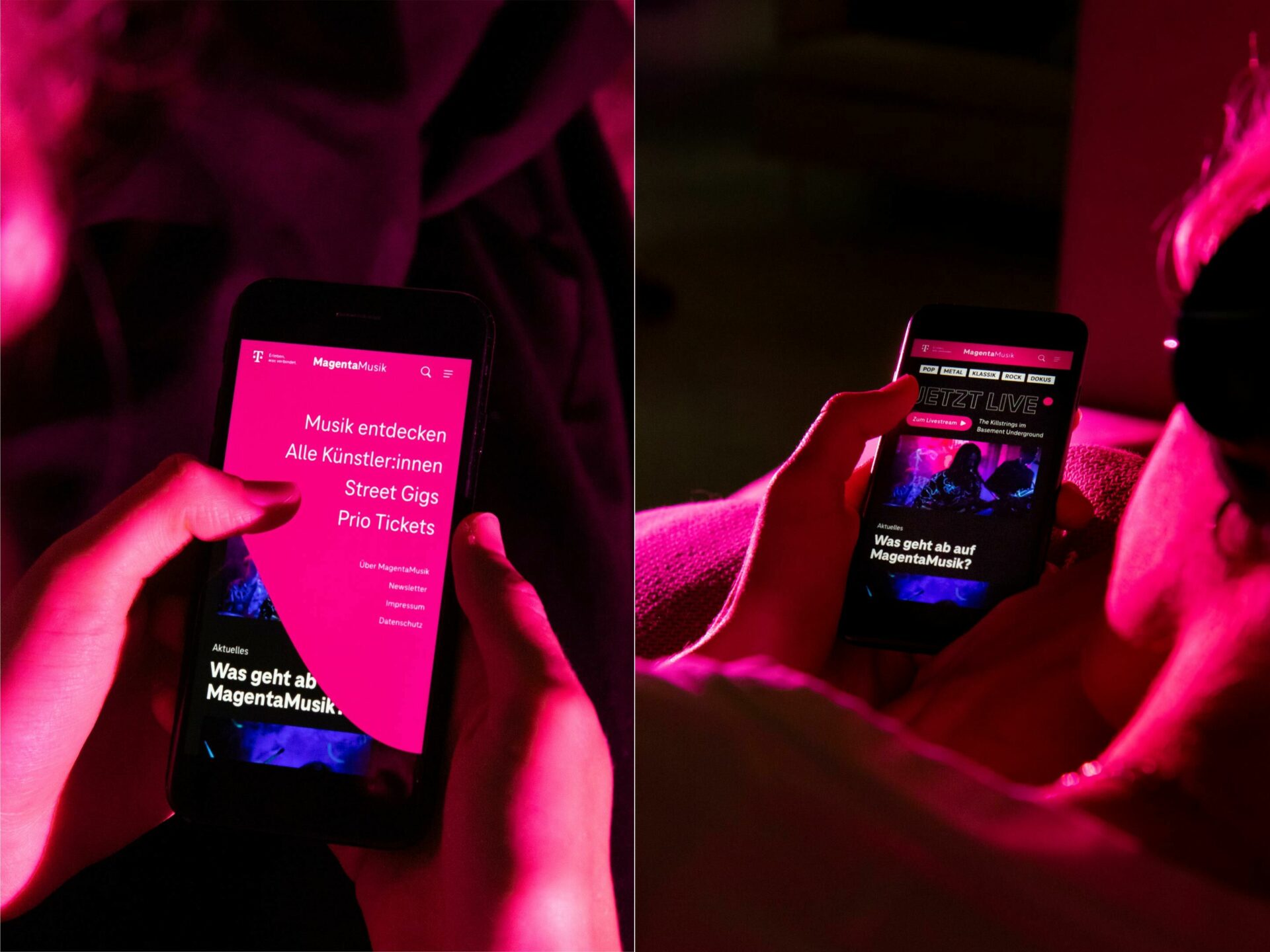 Our Prelude
In 2018, we created MagentaMusik as a central hub for the extensive music offering of Telekom Germany: live streaming, tickets and the Street Gigs event series in one online platform. Here, technical excellence and editorial responsibility mesh to create smooth, digital music experiences.

The foundation of it all is a Craft CMS, to easily connect the numerous existing interfaces, such as for ticket sales or livestreaming. Upstream caching ensures optimal performance and short loading times – even when over a million viewers accessed the livestream of Wacken Open Air.

Most users prefer to stream their favourite concerts on their personal mobiles. So we have optimised the user experience at this point, and replaced the native MagentaMusik app with a progressive web app (PWA).

We have been working continuously on the MagentaMusik product in an agile and iterative way since its launch in 2018. Our benchmarks include first-hand user feedback, social trends and technological advances in streaming.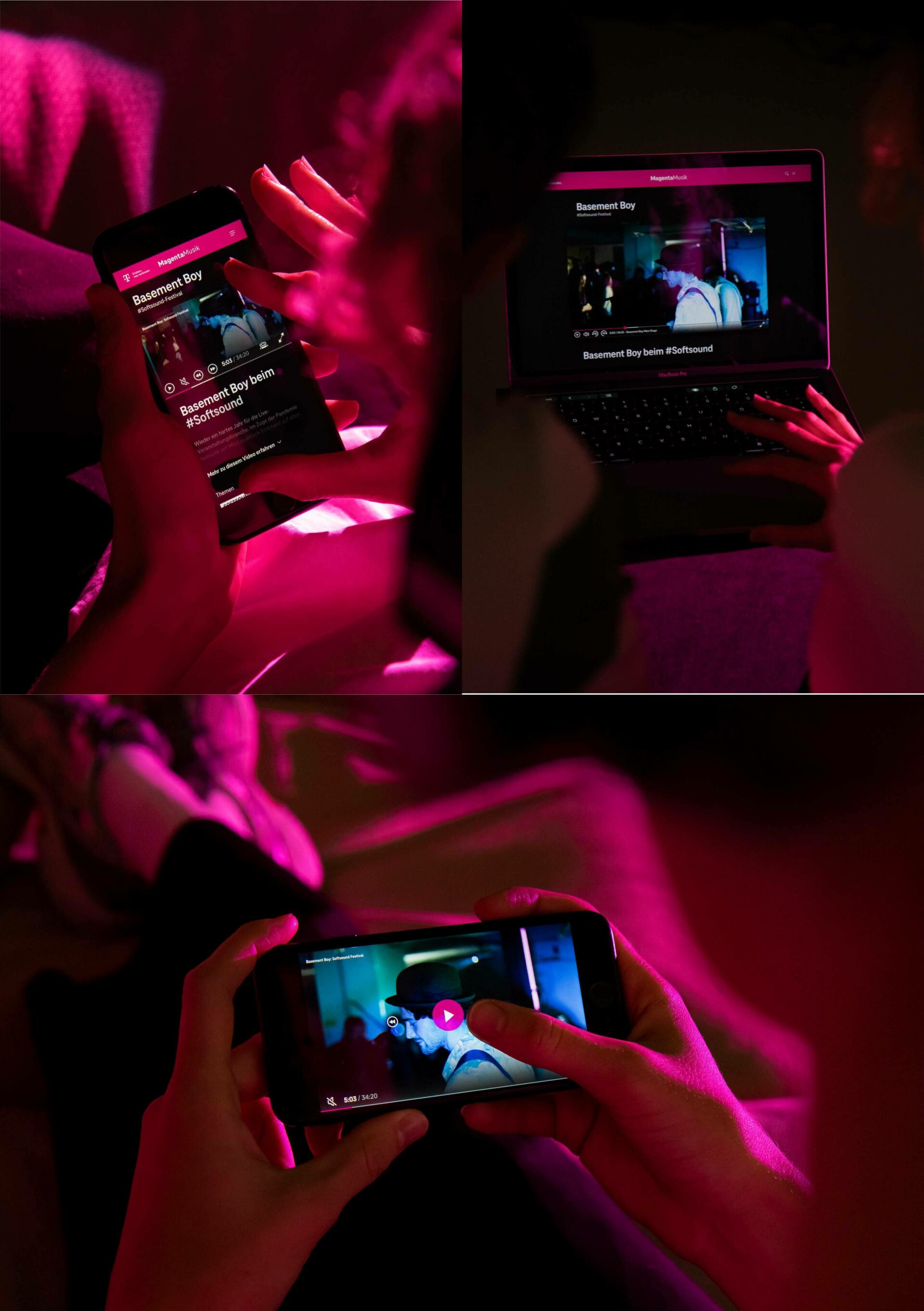 And it goes on and on and on…
Over the years, we have developed MagentaMusik from a digital hub into an all-round musical experience. In this digital concert arena, metalheads, pop divas and every other kind of music fan can always celebrate something new.
Experience the brand
Our integrated design system guarantees the right look on MagentaMusik. For this purpose, we translated the liquid design from the Telekom branding universe for the website and have been constantly developing it ever since. Thanks to these continuous optimisations, the design on MagentaMusik has become the central driver of the customer experience.

Celebrate live music
The fact that MagentaMusik is about really experiencing music is also conveyed in our imagery. Using recordings from our concerts and festivals, we transfer that real live music feeling to the web.

All website content is organised into a tag system. Combined with a search option – based on Elasticsearch – this structure simplifies direct access to a favourite genre, for instance.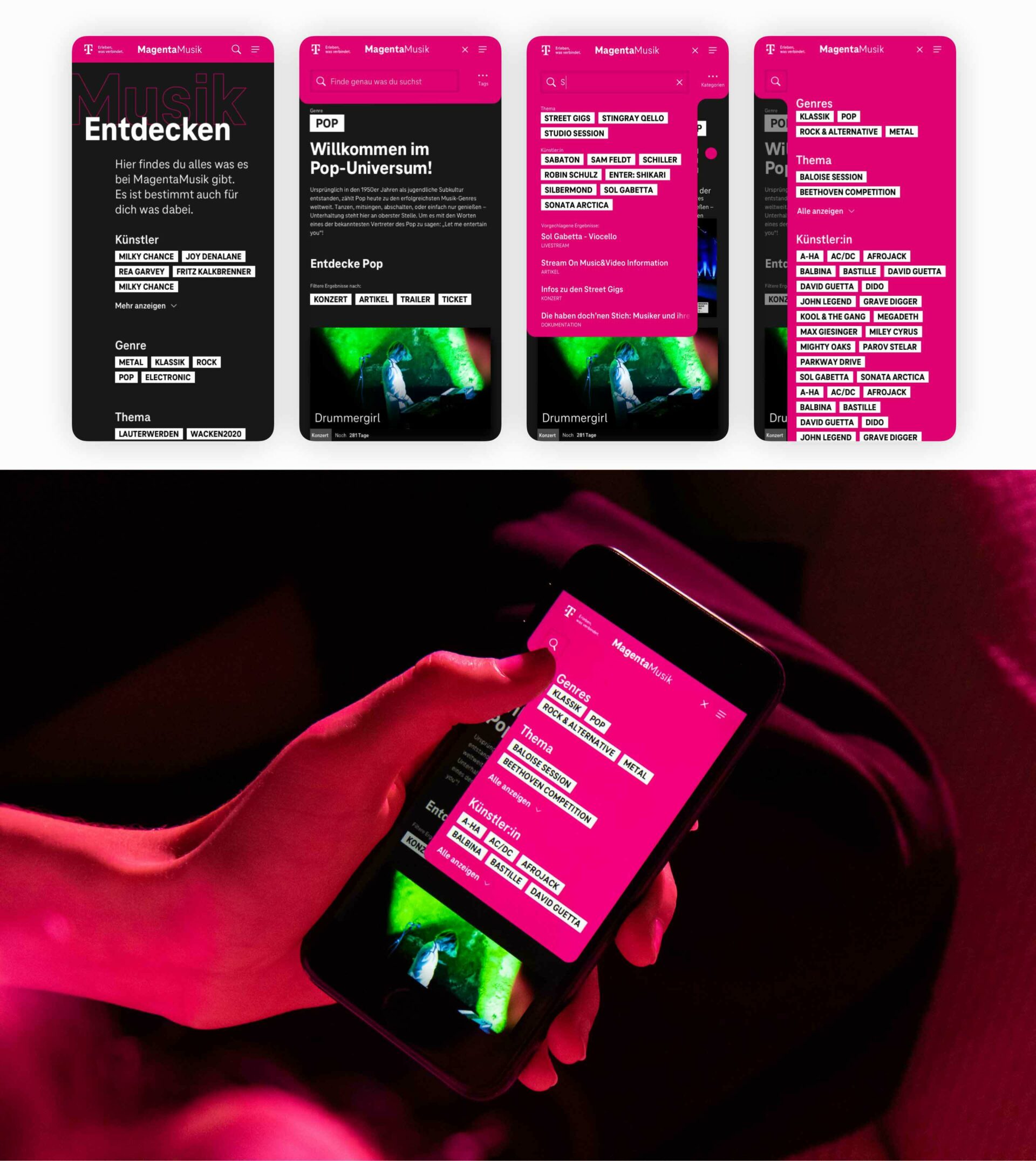 Constantly discover music
By constantly curating the music content and developing new content formats and exciting articles on MagentaMusik, we are constantly creating the latest highlights on the website.

Dedicated landing pages form the digital home for festivals and other livestream events. This is where users can find all information about the event. The event landing page is the starting point for your customer journey and raises the anticipation of lots of music.

User experience life-cycle
The further development of MagentaMusik is all about the music fans. Direct feedback from the website users flows directly into the development of new components or the improvement of existing ones.