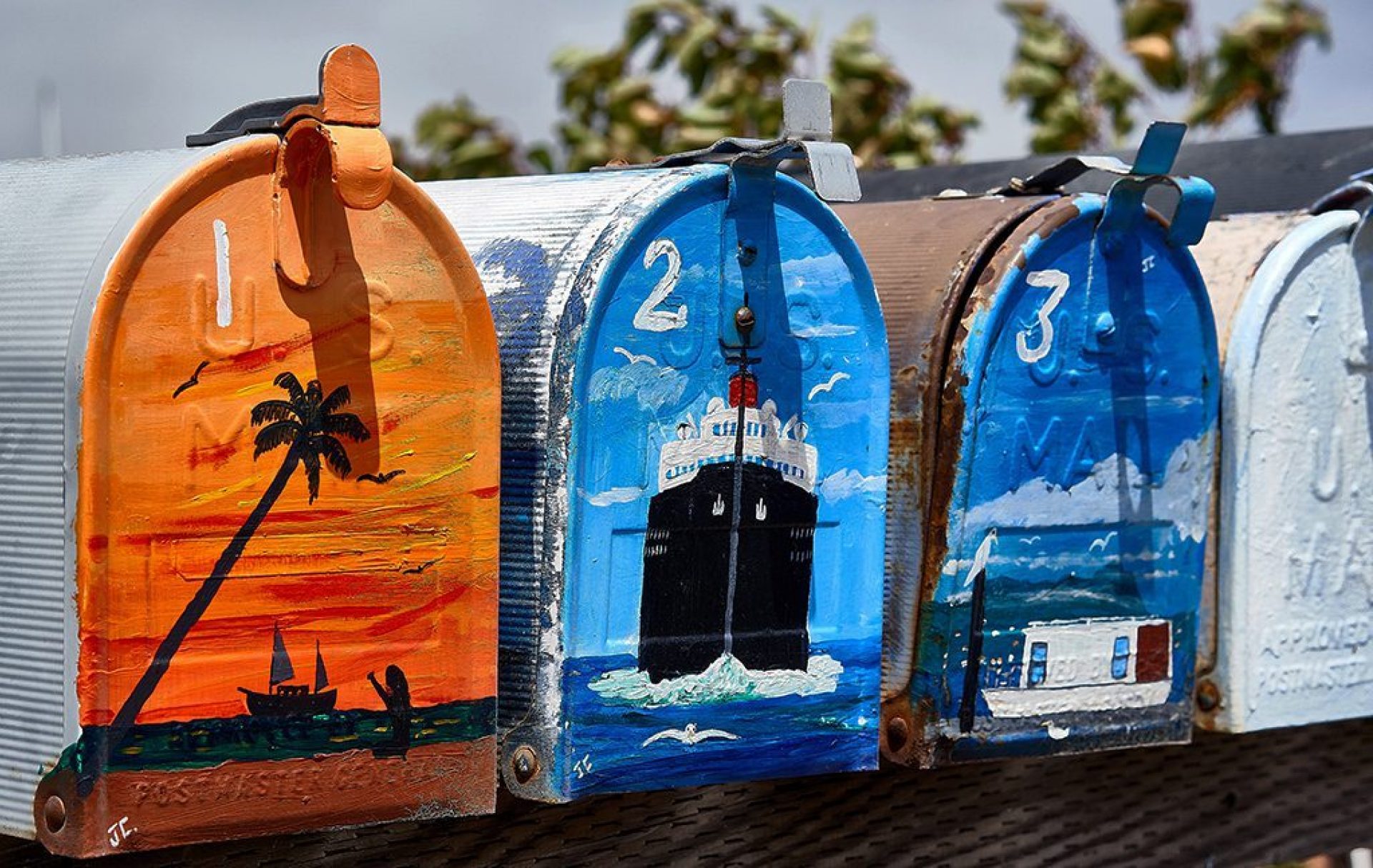 Personalized communication along the

Customer Lifecycle
CRM and e-mail marketing with relevance
Customers have different needs and, accordingly, very different interests and behaviors. We identify their needs for companies and place them at the center of customer relationship management (CRM) measures. With e-mail marketing as the most important CRM discipline, we master these and other challenges efficiently and effectively at the same time.
"Customers rightly expect customized content. And companies prefer to automate this. This is how perfect e-mail marketing works!"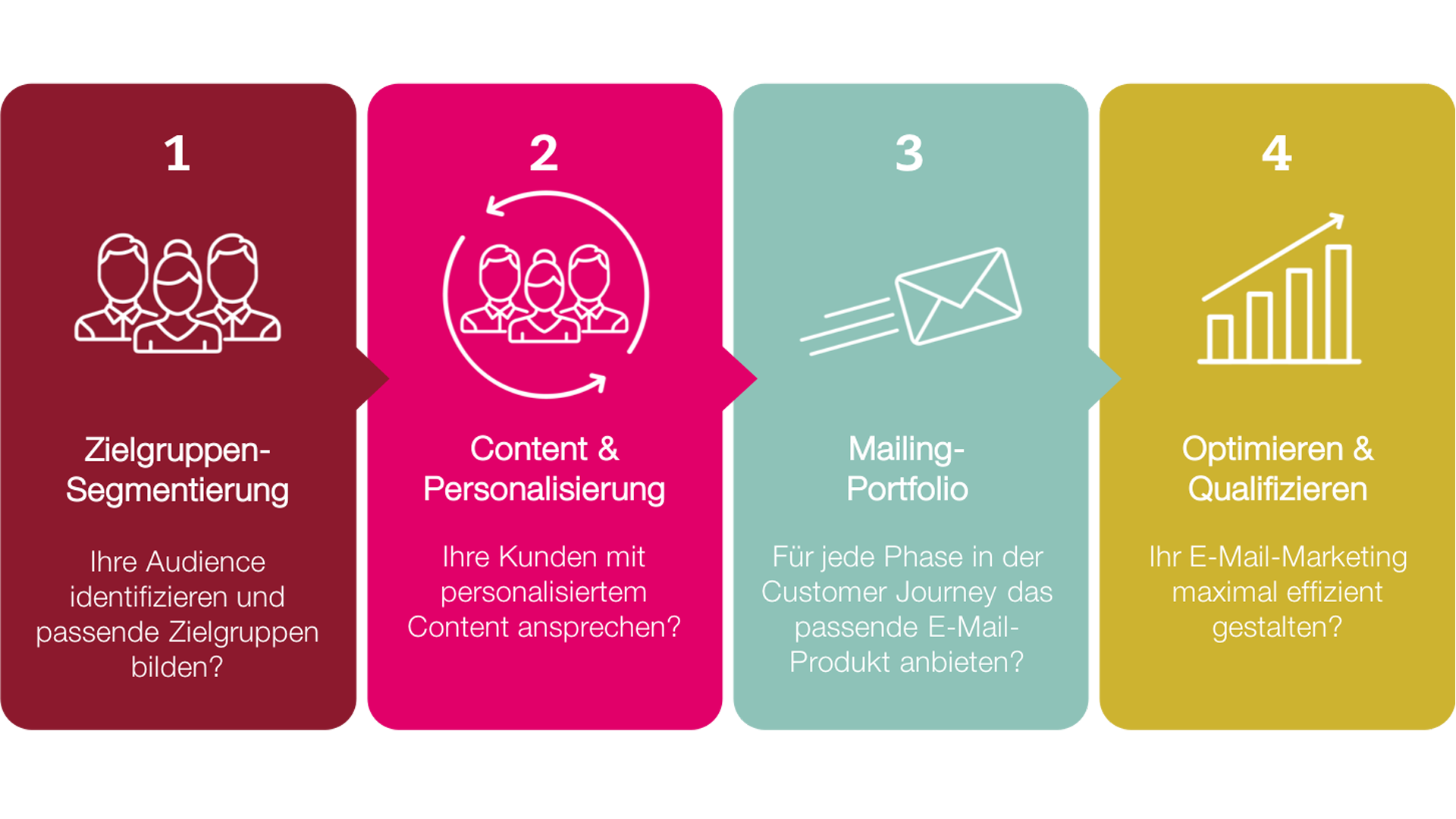 In order to convert interested leads into existing customers and to build long-term customer relationships, we first conduct an audience analysis to be able to use the results to segment by target group - the prerequisite for personalized content in e-mail marketing. In this way, we can ensure that we address each recipient with the right message and reach them in a relationship based on appreciation. For the technical implementation of customer relationship management, we use a powerful CRM system or suitable newsletter software.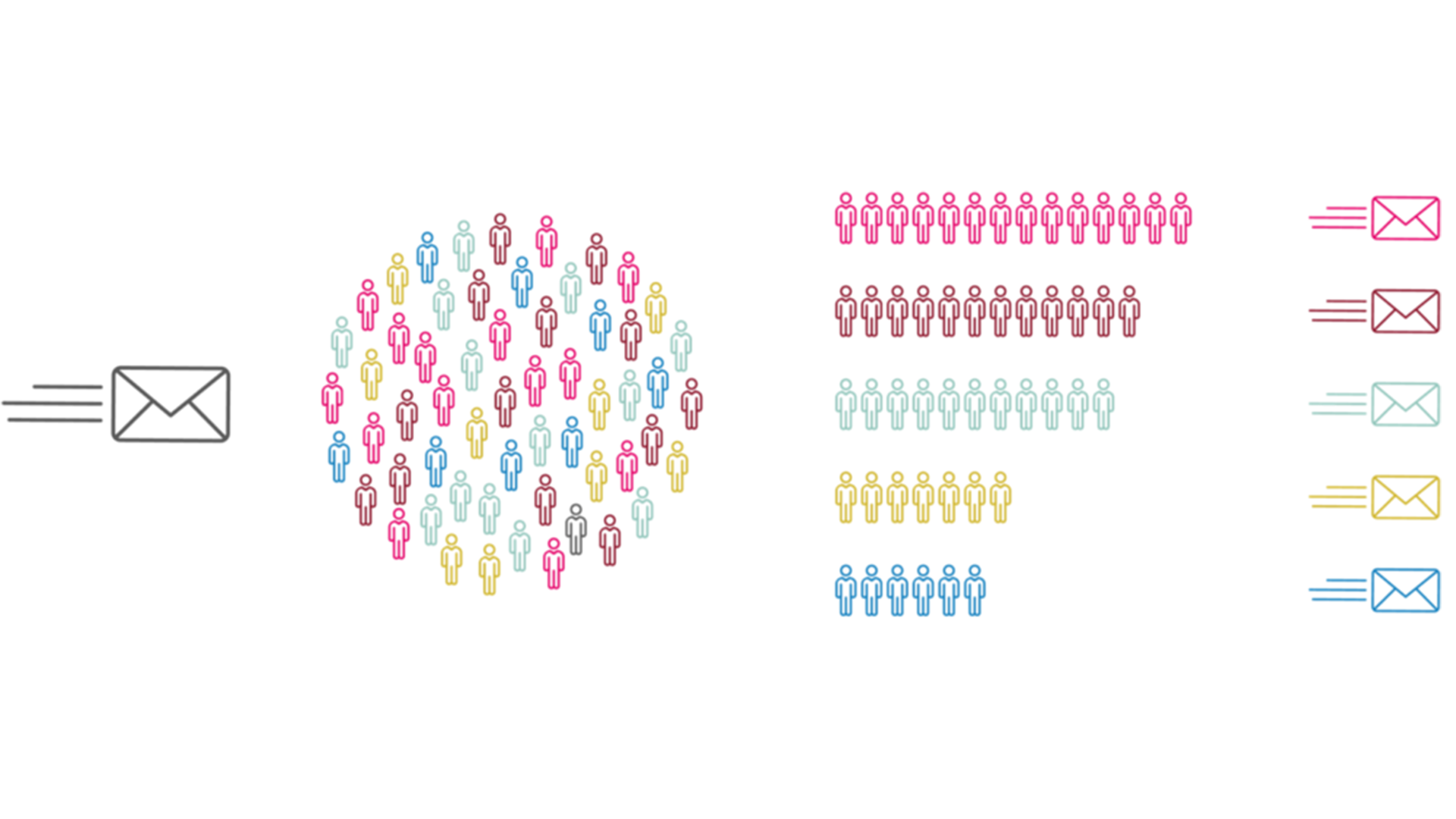 In the next step, we develop holistic strategies to address your customers individually and personalized along the customer life cycle. The focus here is on automated e-mail series (marketing automation), which effectively supplement the classic newsletter dispatch to all recipients*. The goal is to ensure that every recipient receives customized content at the right time. In this way, we turn leads into customers, strengthen the loyalty to existing customers in the long term, increase conversion rates and ensure long-term business success through intelligent customer relationship management. With the holistic conception of measures for successful customer relationship management, our offer goes beyond that of a classic e-mail marketing agency. From double opt-in procedures, newsletter templates, e-mail dispatch and lead management to consulting on e-mail marketing software: we offer all-in-one solutions for optimizing customer lifetime value. Focus on your customers and customer satisfaction - find out more about our professional e-mail marketing solutions and benefit from the advantages of a CRM system

Strategy development
Target group segmentation and personalization
Successful lead generation
Powerful e-mail marketing tool
Newsletter registration according to DSGVO
Customer preference profile
E-mail automation
Effective Marketing Automation
Trigger-based mailing series: Welcome route, shopping cart dropout series, event invitation, lead-nurturing workflows
Creative Everletter campaigns
Campaign Development


Target group oriented approach
E-mail marketing campaigns
Dynamic content
Template Design & Programming
Analytics and Performance Optimization
Customizing through cluster analysis
Newsletter A/B-Testing
KPI analysis and optimization recommendations
Reports and dashboards
Multichannel campaigns
Push News
Instant messaging, e.g. WhatsApp and Facebook Messenger
What does CRM mean?
CRM is the abbreviation for the English term "Customer Relationship Management", in German "Kundenbeziehungsmanagement". CRM involves the collection and evaluation of information and data about prospects and customers, on the basis of which customer relationships can be established and improved. The same abbreviation is often used for customer relationship management systems. These are software solutions for collecting and evaluating customer data.
Why is Customer Relationship Management indispensable for companies?
The more knowledge a company has about the preferences, buying habits and requirements of its potential and existing customers, the more targeted it can address prospective customers and convert them into customers or retain existing customers. Through consistent customer relationship management, every interaction with prospects and customers - whether by e-mail, telephone, during a customer visit or via a website - becomes valuable information that can be used for targeted marketing measures to acquire or retain customers. Professional customer relationship management is the basis for improving marketing and helps companies to optimize customer service and business processes.
What advantages does CRM offer a company?
Through the structured recording of all customer interactions and their availability to all employees involved, cross-team collaboration and consequently productivity can be increased. Based on the collected data, more accurate sales forecasts and meaningful reports with reliable sales key figures can be created. Overall, customer relationship management leads to higher customer loyalty and customer satisfaction, which in turn increases the return on investment (ROI) of marketing in the long term.
What is a Customer Lifecycle and why is it so important?
Loyal customers who buy from a company for a lifetime and recommend it to others - that is the ideal. In reality, however, many companies tend to struggle with advertising campaigns that have no effect and with customers who drop out. To understand how a person becomes a long-term, loyal customer, you need to understand the customer lifecycle. Customers have a life cycle. No one buys a product or service just like that and becomes a regular customer right away - it's a process that develops over many years. In the beginning there is the taking of knowledge, maybe even a contact. The second step is acceptance. This is followed by the so-called conversion, followed by commitment and loyalty. And this is the customer lifecycle that companies should work with.
What is a customer life cycle?
The customer lifecycle, according to the German translation of Customer Lifecycle, begins when the potential customer becomes aware of a company for some reason. Only then will the customer become interested in a specific product. Then comes the conversion: an interested party becomes a customer. But this is still a one-time affair. Now it is important to arouse interest again and again and to provoke this step to the actual purchase. Now the customer can become a long-term, loyal customer. And that is very important, because surely bound customers recommend companies. The goal is, of course, that customers generate more customers in this way, who for their part repeatedly pass through the elliptical customer lifecycle. Customer loyalty is achieved through effective CRM. And we are happy to help you with this.
How does a CRM agency work?
CRM is the abbreviation for Customer Relationship Management. It is used to design customer relationships in such a way that they are efficient and thus demonstrably successful for the company. Anyone who does not have this expertise in-house should hire a specialized CRM agency so that this important success factor is not neglected. Analysis is the beginning of everything A good CRM agency will first analyze the customer relationships of a company and the associated type of interaction in detail, so that a concrete need for action can be determined. In the age of the Internet, this is also done especially for the online sector. Here, healthy customer relationships are particularly important, as a company can literally be replaced by a click of the mouse. Goal of the CRM agency The agency specialists focus on two things in particular in their work: making customer relations more efficient on the one hand, and more service-oriented on the other. Both are relevant for the success of the company and ideally result in a pleasing increase in turnover. Work processes in the company can be improved by the CRM agency and often also structured more cost-effectively. Customer satisfaction increases through a plus in service quality, which in turn benefits the company. Software solutions by agency experts CRM can be sustainably improved by suitable software products. The agency has the expertise to effectively advise companies regarding the optimal software, to install it and to guarantee a trouble-free use even after the start of operation. Changes in the CRM can also be carried out professionally and precisely by the experts of a CRM specialized agency. They also make sure that the selected software is user-friendly and easy to use.